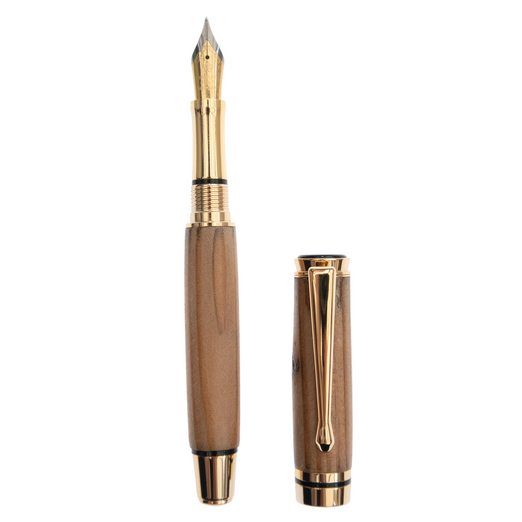 Own a piece of military aviation history, with our de Havilland Mosquito pen. The body of this handcrafted pen is made from the stringers and spars of the 1940s...
Availability:
Out Of Stock
Own a piece of military aviation history, with our de Havilland Mosquito pen.

The body of this handcrafted pen is made from the stringers and spars of the 1940s Ka114 Mosquito, a famous and loved aircraft from World War II. Each pen is unique in design and will often feature screw holes that have been lovingly incorporated into the finished product. 

Fly through your paperwork with this piece of history as your co-pilot.
Choose from either a traditional fountain pen, with its classic silhouette and elegant flow, or modern ballpoint pen with smooth gliding action. Both offer premium hardware which ensure the quality of this pen will last for many years.
Alternatively, fly high with our first-class upgrades that include 24k gold or platinum nib options, available on the custom pen page.
Every Wig and Pens fountain pen accepts standard short ink cartridges. We also include a converter with your fountain pen to enable you to load the pen with bottled ink.

View our selection of premium Diamine inks here 
Each pen comes boxed, with premium packaging. The origin of the wood is confirmed with a certificate of authenticity. Ideal as a gift!
At your fingertips
The pen body is constructed from the stringers and spars from the wings of an original De Havilland Mosquito. One of the most notable planes used during WWII.

PREMIUM SELECTION
Hardware
Supplied as standard with a size 6 Beaufort Cyclone fountain pen nib or the Beaufort Cyclone roller ballpoint. Stunning premium metal hardware with screw action cap.  

HANDCRAFTED, DISTINCTIVE AND
Unique
Handcrafted from original wood, each pen is unique. Featuring screw holes and construction marks that have been lovingly incorporated into the finished product so no historical elements are overlooked.
Weight and Dimensions (approx.)
| | |
| --- | --- |
| Weight of pen with lid: | 44g |
| Weight of pen without lid: | 21g |
| Length of pen end to nib (no lid):  | 12.5cm |
| Length of pen with lid end to end:  | 13.5cm |


History of the De Havilland Mosquito Plane
The de Havilland DH.98 Mosquito is a British twin-engine, shoulder-winged, multi-role combat aircraft, introduced during the Second World War. Unusual in that its frame was constructed mostly of wood, it was nicknamed the "Wooden Wonder", or "Mossie". Lord Beaverbrook, Minister of Aircraft Production, nicknamed it "Freeman's Folly", alluding to Air Chief Marshal Sir Wilfrid Freeman, who defended Geoffrey de Havilland and his design concept against orders to scrap the project. In 1941, it was one of the fastest operational aircraft in the world.
Originally conceived as an unarmed fast bomber, the Mosquito's use evolved during the war into many roles, including low- to medium-altitude daytime tactical bomber, high-altitude night bomber, pathfinder, day or night fighter, fighter-bomber, intruder, maritime strike, and photo-reconnaissance aircraft. It was also used by the British Overseas Airways Corporation as a fast transport to carry small, high-value cargo to and from neutral countries through enemy-controlled airspace. The crew of two, pilot and navigator, sat side by side. A single passenger could ride in the aircraft's bomb bay when necessary.
The Mosquito FBVI was often flown in special raids, such as Operation Jericho (an attack on Amiens Prison in early 1944), and precision attacks against military intelligence, security, and police facilities (such as Gestapo headquarters). On 30 January 1943, the 10th anniversary of the Nazis' seizure of power, a morning Mosquito attack knocked out the main Berlin broadcasting station while Hermann Göring was speaking, taking his speech off the air.
Every pen is handcrafted to order and takes a minimum of 10 working days to construct, from the date that the order is placed.
Once your handcrafted pen is complete, I will send an email with an expected delivery date included.
Every pen arrives in a velvet box that is enclosed in our signature custom packaging.
The unboxing of this fabulous pen is delightful, making these handcrafted pens a wonderful gift for others or a treat for yourself.
Additional giftwrapping can be added at the cart, where we will remove all costings from the package before shipping.
FREE SHIPPING on all orders over £99 within the UK.
Orders under £99 are shipped with Royal Mail Special Delivery and costs £6.