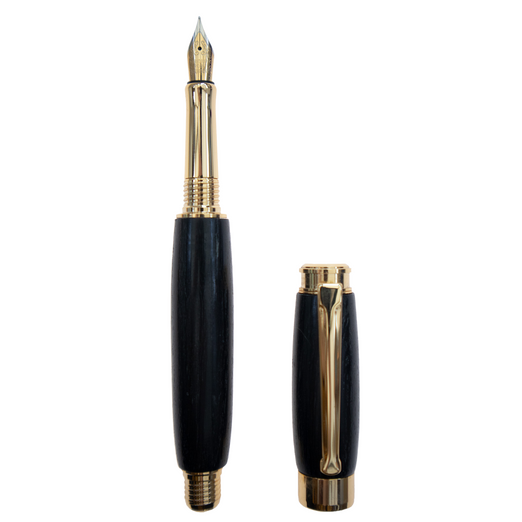 The body of this stunning pen has been made using Bog Oak, a wood that has been buried in Peat bogs for hundreds, or often thousands of years. The extremely low...
Availability:
Out Of Stock
The body of this stunning pen has been made using Bog Oak, a wood that has been buried in Peat bogs for hundreds, or often thousands of years.
The extremely low oxygen conditions of the Bog acts as protection from normal decay, while the underlying peat provides the acidic conditions where iron salts and other minerals react with the tannins in the wood, which gives it the highly sought-after dark Chocolate to almost black colour.
Choose from either a traditional fountain pen, with its classic silhouette and elegant flow, or modern ballpoint pen with smooth gliding action. Both offer premium hardware which ensure the quality of this pen will last for many years.
Alternatively, choose from our first-class upgrades that include 24k gold or platinum nib options, available on the custom pen page.
Every Wig and Pens fountain pen accepts standard short ink cartridges. We also include a converter with your fountain pen to enable you to load the pen with bottled ink.

View our selection of premium Diamine inks here 
Each pen comes boxed, with premium packaging. Ideal as a gift!
Hardware
Supplied as standard with a premium ballpoint nib which withdraws into the shaft of the pen and is accessed via a classic rotational twist of the top of the pen.
LUXURY CRAFTSMANSHIP
At your fingertips
The pen body is constructed from the richest coloured bog Oak which is hardy and durable ensuring the longevity of this incredible piece.

Polished to a high standard and finished with a beautiful sheen, this pen is truly mesmerising.
HANDCRAFTED, DISTINCTIVE AND
Unique
Unique in every way as each piece has a different depth of colour, shine, ridges and whorls that are unique as our own fingerprints, ensuring your pen is your very own unique piece.
Weight and Dimensions (approx)
| | |
| --- | --- |
| Weight of pen with lid: | 45g |
| Weight of pen without lid: | 21g |
| Length of pen end to nib (no lid):  | 12.5cm |
| Length of pen with lid end to end:  | 13.5cm |
Every pen is handcrafted to order and takes a minimum of 10 working days to construct, from the date that the order is placed.
Once your handcrafted pen is complete, I will send an email with an expected delivery date included.
Every pen arrives in a velvet box that is enclosed in our signature custom packaging.
The unboxing of this fabulous pen is delightful, making these handcrafted pens a wonderful gift for others or a treat for yourself.
Additional giftwrapping can be added at the cart, where we will remove all costings from the package before shipping.
FREE SHIPPING on all orders over £99 within the UK.
Orders under £99 are shipped with Royal Mail Special Delivery and costs £6.